About the CPD course
A series to help managers get the very best out of people. Fully interactive. Scenario-based. Designed to enhance and blend in with current programmes and procedures for both new and experienced managers. By playing out challenges within realistic scenarios, managers get the chance to experience the benefits when business improves. Benefits which make their lives easier, more rewarding. Managers will not only know how to make changes but will want to make changes. 7 episodes: Preparation; Wellbeing; Recruitment; Induction; Coaching and Performance Management; Appraisals; Managing Talent.
CPD Provider
Upskill People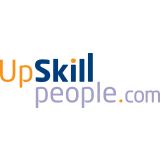 Upskill People
Upskill People is a true innovator in the global online learning market, using our unshakeable belief in people's potential to help upskill millions every year. We're purpose-driven with a wealth of 25 years' experience, but our real difference lies in one simple fact: our course content is the 'best in class'. Our principles: 'Understand, Innovate and Deliver', are as important today as ever. Clients both large and small trust us to help them overcome some of their biggest challenges, namely: building people's confidence, accelerating their productivity and developing more effective managers who lead their teams to greater performance.
Get industry-related content straight to your inbox
Thank you for subscribing